14 Cool New Features Coming in iOS 17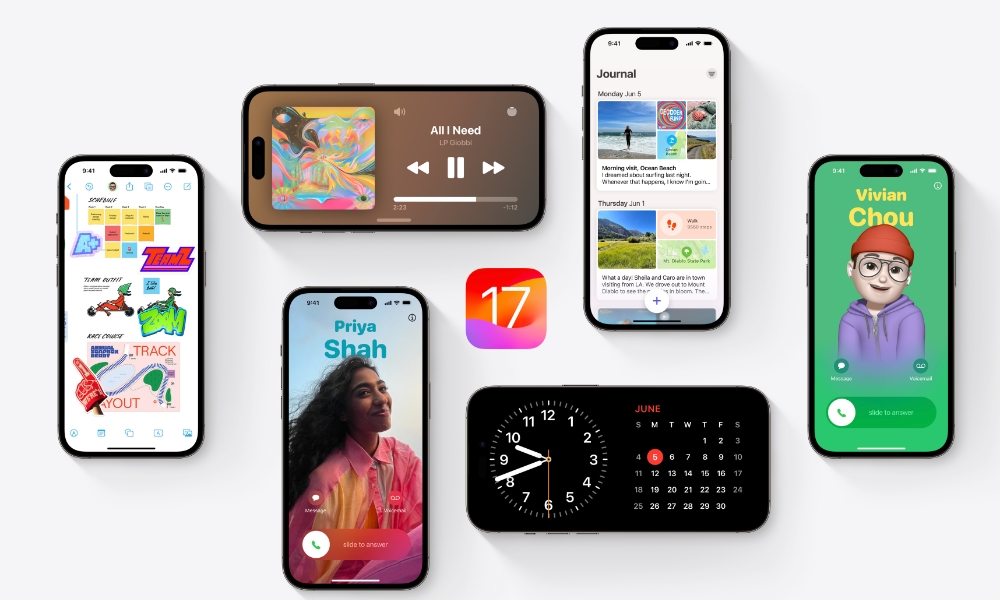 Apple took the wraps off iOS 17 this week during its annual Worldwide Developers Conference (WWDC), introducing a new set of features that promise to enhance communications, simplify sharing, and improve keyboard intelligence.
Although iOS 17 may be less exciting than the other major iOS releases we've seen over the past few years, it packs in some nice quality-of-life improvements that are about refining the user experience, rather than redefining it. Read on for 14 cool new features coming to iOS 17.
---
StandBy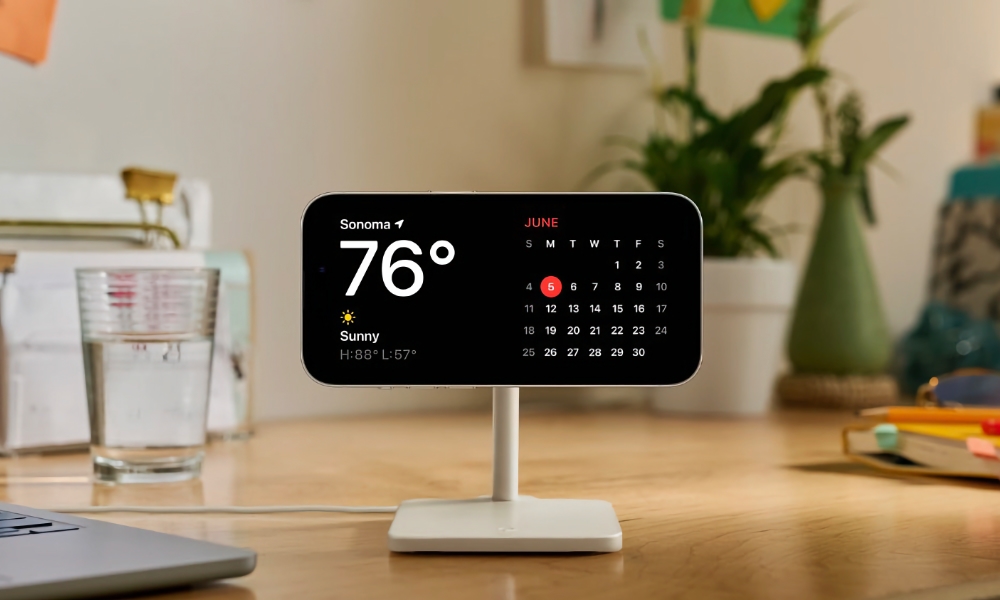 Apple introduced a new Lock Screen experience in last year's release of iOS 16, and it's taking that to a new level in iOS 17 with StandBy, a new mode that will let you turn your iPhone into a smart display when you're not using it.
While on the Lock Screen, turning your iPhone into landscape orientation will give you glanceable information that you can see at a distance. At a basic level, that's a clock and calendar, but you can tweak that with all sorts of other information, including widgets in Smart Stacks to surface what you need to see, when you need to see it.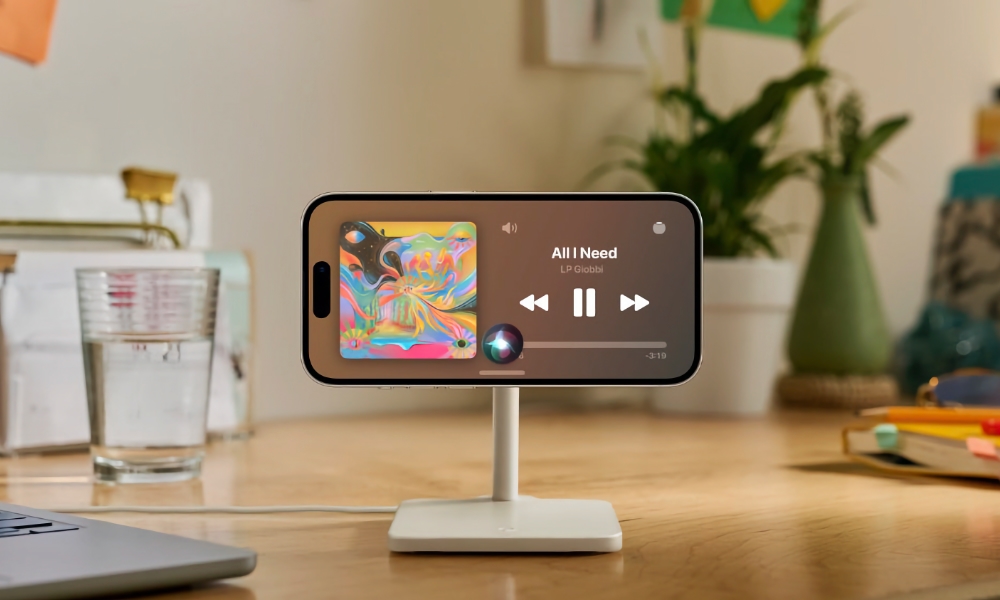 This includes support for Live Activities, so you can see how your favorite teams are doing or when your UberEats order will show up. Calling up Siri will also show rich visual results that fill the screen.
The StandBy screens aren't fixed, either; you can change them up with only a few swipes, and at night they'll dim into a low-light mode to avoid distracting you while you sleep. Plus, StandBy will be able to tell which MagSafe charger it's connected to so you can have different preset displays for each room in your home.
---
Interactive Widgets
We were thrilled to see Apple finally introduce Widgets in iOS 14, providing the ability to see important information on our home screens at a glance. However, the experience wasn't perfect; widgets could take you into a specific part of an app, but you couldn't otherwise interact with the information in those little windows.
The good news is that Apple is fixing that in iOS 17, bringing full interactivity that will let you check off tasks, play music, and access your Home controllers interactively, right from a widget, without taking you into the corresponding app. All of Apple's first-party apps will offer these new widgets right away, and it's a safe bet that third-party developers are already hard at work to have their apps ready for the fall when iOS 17 launches to the public.
---
Personalized Contact Posters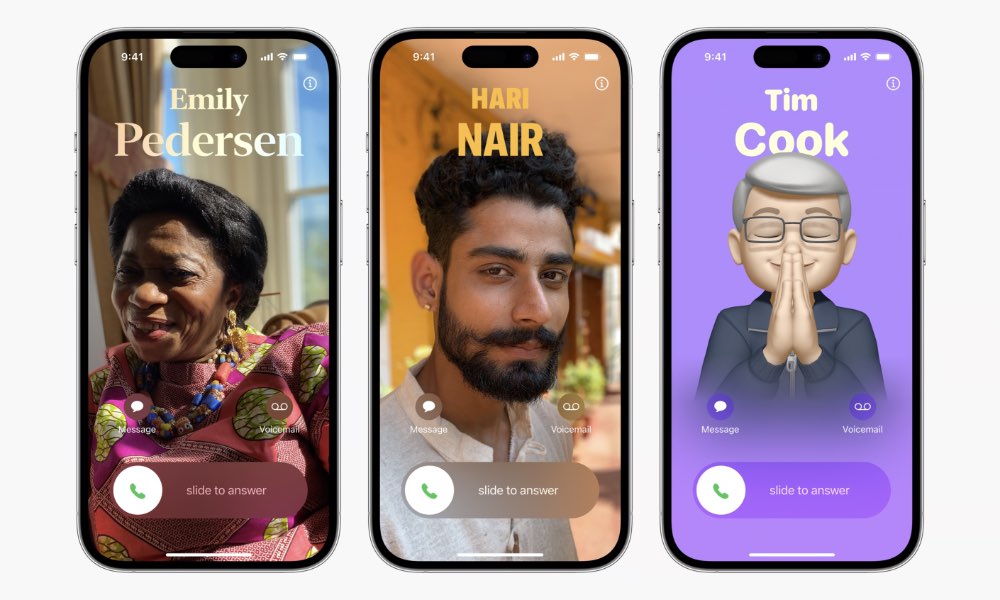 The Phone and Contacts apps are getting a whole new way of looking at your friends and family. You'll now be able to personalize full-screen contact posters for each of your contacts, and even create your own that will appear on the incoming call screen on other people's iPhones when you call them.
The process for creating these contact posters is similar to the experience of customizing the Lock Screen in iOS 16, with the ability to choose a photo, Memoji, or simply a monogram, along with color and font selections. Posters will appear prominently at the top of that person's contact card, and you'll be able to automatically add any that are created and shared by your friends — which come in automatically when they call you.
Of course, everyone's iPhones will need to be running iOS 17 for the sharing aspect to work. As with Messages contact photos, you'll also have control over who you share your contact poster with, so you can limit it to only your immediate friends and family rather than having it appear on every random iPhone you happen to place a call to.
---
Live Voicemail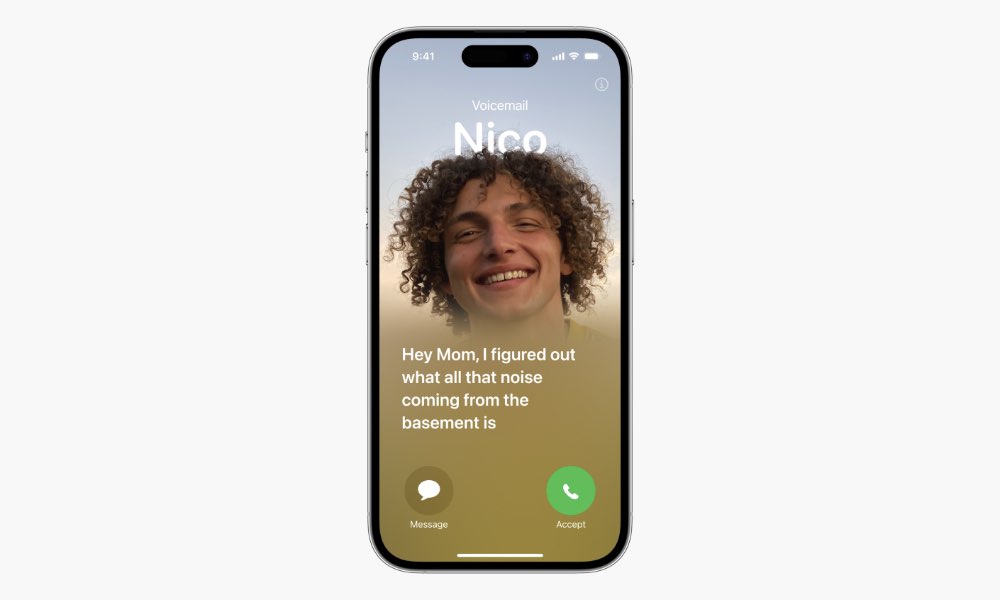 Apple is also adding old-school answering machine style call screening to the Phone app. When somebody leaves you a voicemail, you won't have to wait for it to show up in the Voicemail section; instead, you'll get a live transcript of the message as they leave it directly on the incoming call screen. You can use that to decide whether to pick up the call or just let them finish leaving the message.
The iPhone app is also blending voicemail into the Recent calls list; you'll see if somebody left you a voicemail message directly below the missed call, saving you a trip over to the separate Voicemail tab.
---
'Video Voicemail' in FaceTime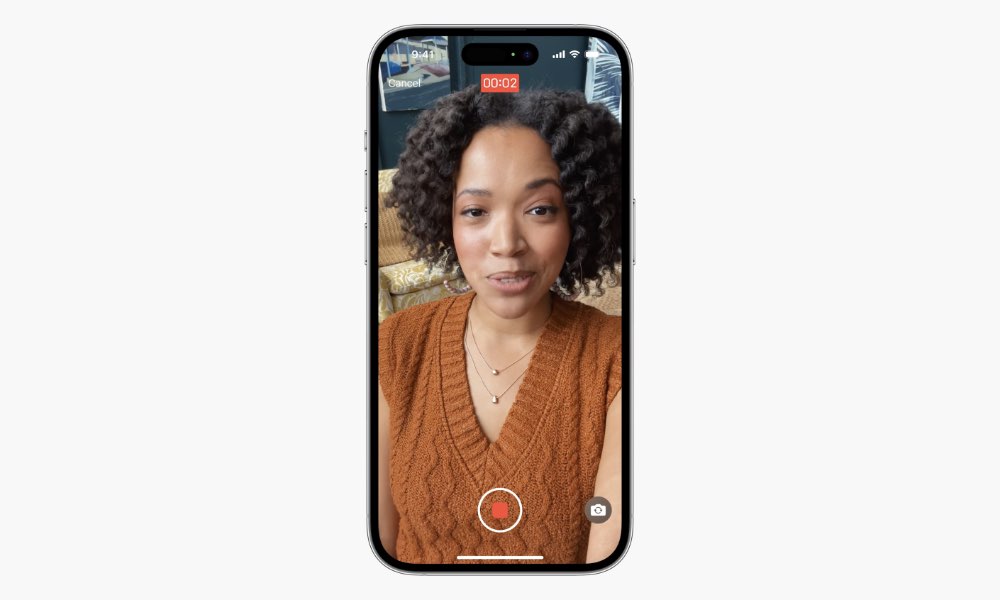 One of the glaring limitations of calling someone using FaceTime is that there's no way to leave a message if they don't answer. A FaceTime call will just ring and ring and ring until you give up.
That's going to change in iOS 17, though. Now, if you don't answer a FaceTime call, the caller will be able to record a short video or audio message for you. Video messages can use all the same features as a FaceTime call, including Portrait mode and Studio Light and you'll even be able to play received messages on an Apple Watch.
---
Messages Improvements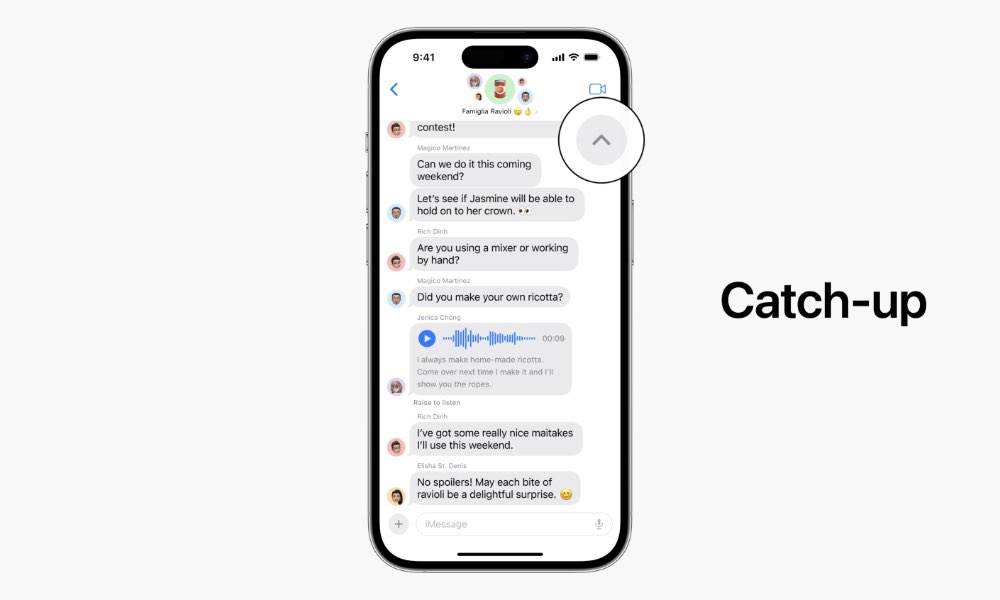 Apple is giving its Messages app another overhaul in iOS 17, with improved search that will let you narrow down your results much more effectively, and new buttons and gestures to make it easier to navigate through long conversations and quickly reply to messages.
A catch-up arrow will now appear in group chats that you haven't been in for a while so you can quickly scroll back to your last read message. You'll also be able to swipe to reply to a message in-line, and audio messages will offer a transcription now so you can read what the person said when you don't have time to listen. Sharing your location will also now show an inline map, saving the recipient from having to tap on it to see more.
iMessage apps are getting cleaned up as well, with the bar disappearing in favor of a single menu accessed by tapping the plus sign, for a much cleaner and less cluttered look.
---
Check-ins for Safe Arrivals
Among the other messaging improvements, iOS 17 will introduce a new check-in feature to let your loved ones know when you've arrived at a destination. This saves you the trouble of remembering to send mom a message to let her know that you got home safely from your trip.
It goes beyond this, though, with the ability to track your progress and update people if you're not making progress or you're behind your ETA, and it will provide your contacts with information on battery level and cell service status so they have an idea if you may end up being out of reach.
---
Stickers Everywhere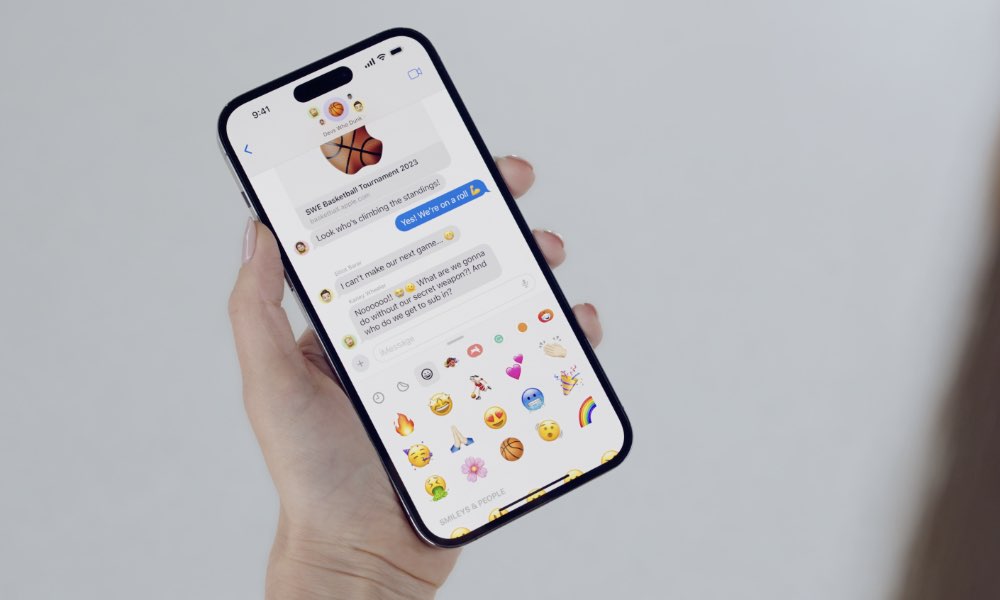 Stickers is one of the more fun but under-utilized features in Messages, but iOS 17 could change that, with Apple making the whole system much more accessible, and opening up new things that can be easily turned into stickers.
A new drawer will show all of your stickers in one place, with all of your Memoji, and you can "peel and stick" any of those into a Messages conversation more easily and fluidly than before, including the ability to rotate and resize them while you're doing it.
Further, you'll be able to turn subjects lifted from photos into stickers that can be reused as often as you like, and it will even support Live Photos, so you can live an animation of a person or pet from the background and add it to your sticker collection. You'll also be able to add live effects to stickers, and use any sticker from the tapback menu, so you're no longer limited to just the five standard glyphs.
Stickers will also now be available system-wide, not just in the Messages app, so you can use them in markup or anywhere you can access emoji today, even in third-party apps.
---
NameDrop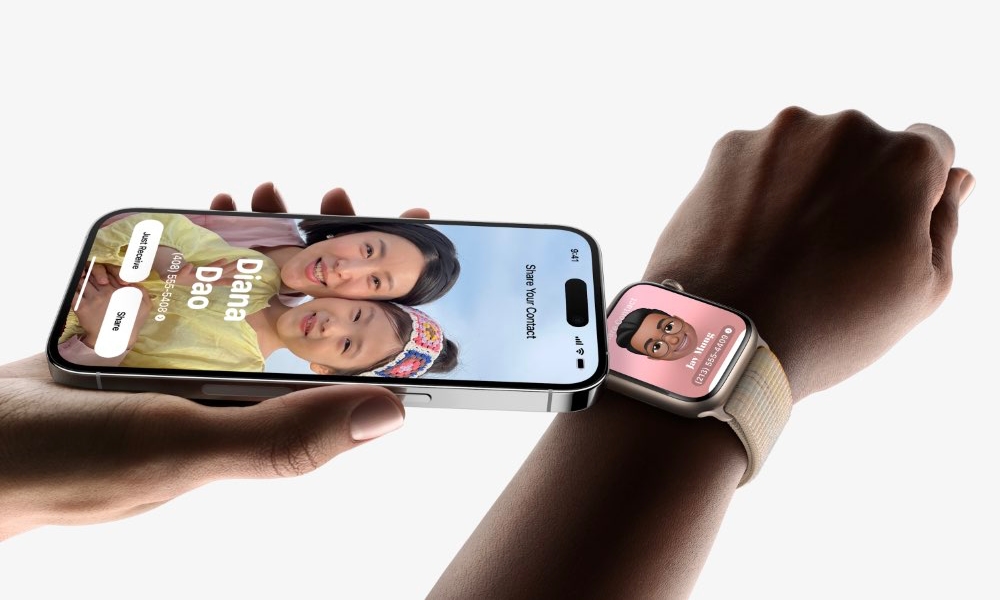 Along with the new contact posters, Apple is also adding a new way to share your contact card with others by leveraging its AirDrop technology more intelligently.
When you bring two iPhones running iOS 17 right up to each other, you'll now be offered a chance to exchange contact cards with the other person. You'll be able to choose which phone numbers and email addresses you want to share. It will even work between an iPhone and an Apple Watch.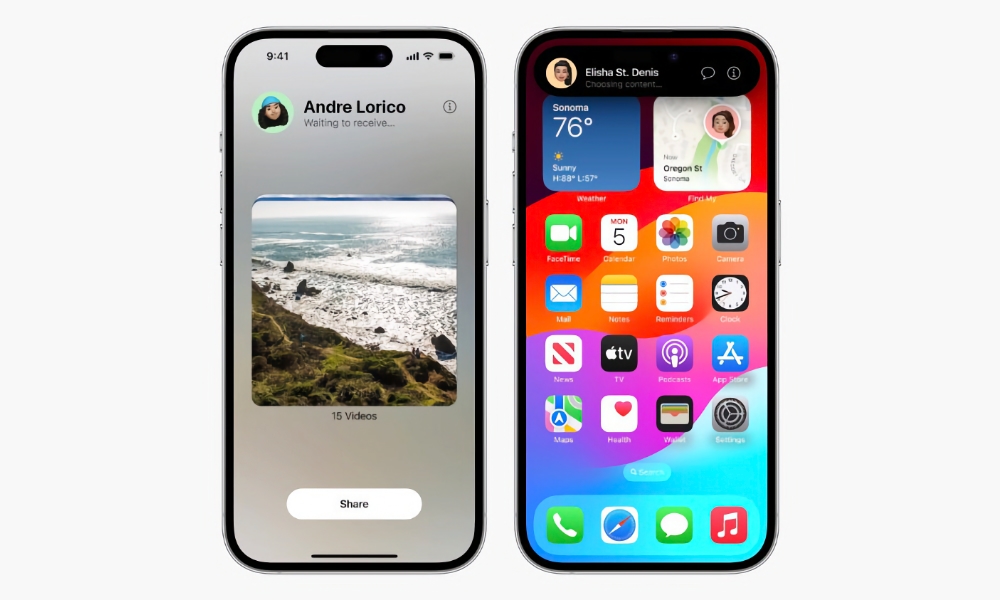 The same technique can also be used to quickly initiate a standard AirDrop share or SharePlay session — just hold the phones close together and pick what you want to share. When sharing larger items like videos, you can even leave AirDrop range and the transfer will continue over the internet.
---
Relive Your Special Moments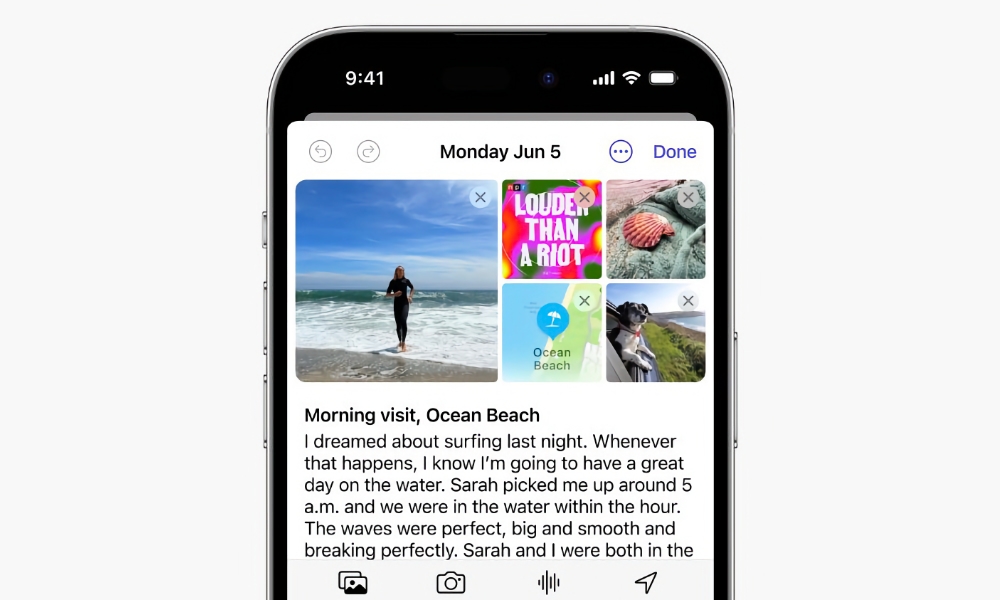 While it's not technically part of iOS 17, Apple has a new Journal app that will arrive later this year to provide a way to help you keep track of what's going on in your life.
Of course, there are plenty of journalling apps on the App Store, but what makes Apple's initiative unique is that it will be tied much more deeply into your iPhone to generate prompts for things you might want to write about. Journal will collect data such as the music and podcasts you listen to, workouts, photos, calls, messages, and more and sift that through an on-device machine learning algorithm to suggest ideas for journal entries.
Naturally, all of this info is analyzed strictly on-device using Apple's Neural Engine, and everything is end-to-end encrypted. It's intended to help you, not let Apple and others help themselves to your data — and that may be what differentiates it the most from some of the other journalling apps out there.
---
Intelligent Input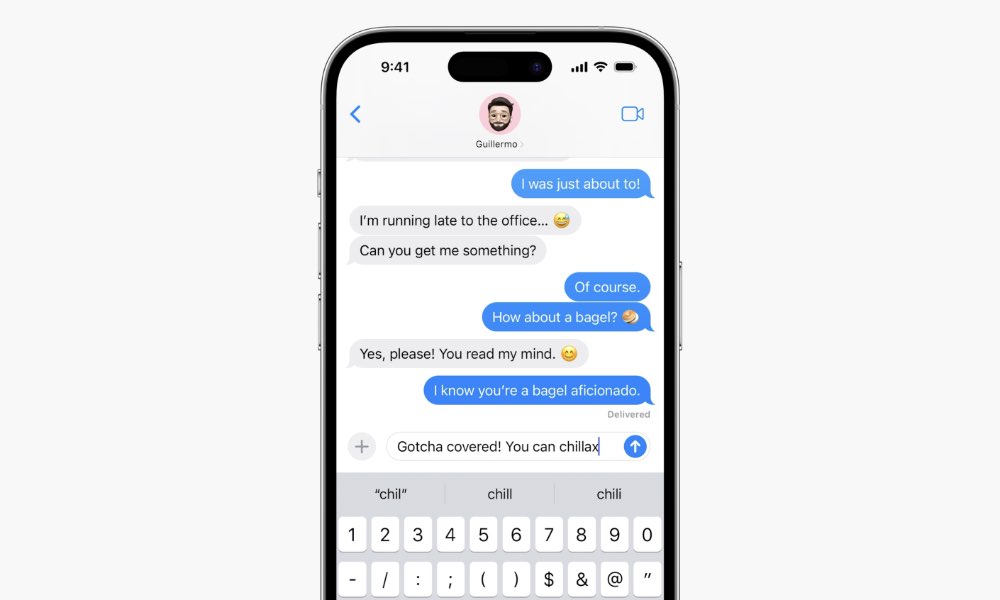 Autocorrect has long been the best and the worst thing about owning an iPhone. The intelligence Apple has baked into its keyboard system is crucial for making a touchscreen keyboard useful rather than frustrating, but as all know, autocorrect doesn't always get things right.
Fortunately, Apple is doing some work in iOS 17 to improve that, tying it in even deeper to the Neural Engine and its on-device machine learning algorithms to improve word prediction and come up with better results. Thanks to the power of Apple silicon, the iPhone can run a complex transformer language model every time you tap a key.
iOS 17 is also adding sentence-level autocorrection, so it can actually go back and fix a word after you've moved on, based on the context of what you're writing, and not just the individual word. It's also going to be much less picky about learning certain words; as Apple SVP Craig Federighi said, "when you just want to type a ducking word, the keyboard will learn that too."
The Neural Engine is also being applied to the Dictation feature, which promises to offer even more accurate speech recognition.
---
No More Saying 'Hey' to Siri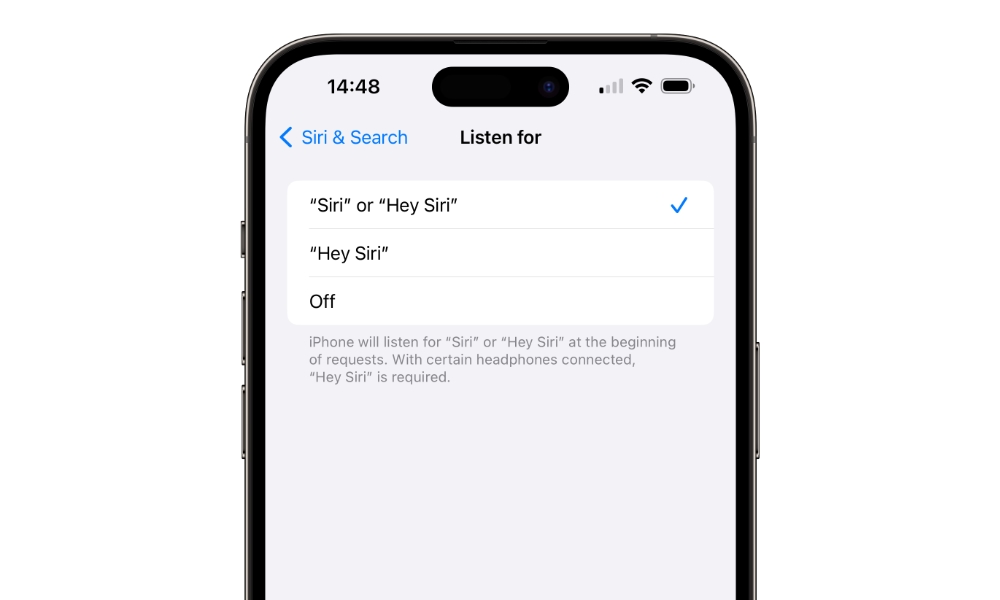 With iOS 17, Apple is making it even easier to call up Siri but letting you drop the "Hey" from the beginning. Further, you'll be able to make back-to-back requests to Siri without needing to repeat the call phrase each time.
Thankfully, if this ends up with too many false positives, you can still set your iPhone to require the full "Hey Siri" wake word, or, as before, you can switch it off entirely.
---
Offline Maps
With iOS 17, Apple Maps will finally let you download your favorite areas for offline use, so you won't need to worry about getting lost if you wander out of network coverage.
Apple Maps will suggest downloading areas you normally frequent, and update them automatically when you're online, so the information will always be current. This doesn't just include the map detail, either — you'll also get information like hours and ratings on place cards and turn-by-turn directions for driving, walking, cycling, and transit. You can even choose to save cellular data by setting Maps to use the offline versions instead.
---
The Truth about Cats and Dogs
Apple is beefing up its people recognition in the Photos app overall with iOS 17, but it's also adding the ability to recognize furry friends that are part of your family, too.
As with Apple's other recent pet-recognition features, this will be limited to cats and dogs, much to the disappointment of those who prefer more exotic animals. Still, we've had success in the past with bunny recognition, so as long as the animal vaguely resembles a cat or dog, you may find it still works for you.